Details

Category: Pay Per Head Reviews
Created: Friday, 09 November 2018 21:00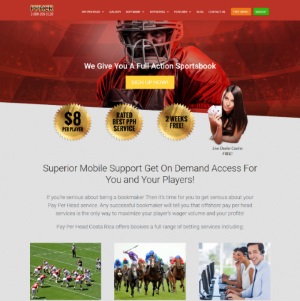 PPHCR.com is a sportsbook pay per head service that is relatively new in the industry. They are based in San Jose, Costa Rica. Let us take a look at their pay per head service and see how they rate. If you want to be a sportsbook agent, it is very important to read reviews like this, so you know what you are getting into. Ideally, you would not want to switch pay per head providers because it would cause trouble with payouts or players.
PPHCR.com also offers line services that they source from Las Vegas in the USA. Upon first glance, they are offering $8 per player for a customized service. We also noticed that they are connected to RDGCorp.com PPH Service - though it is unclear if this is a partnership or reselling of services. We also saw an offer for a free demo. We had to get in touch with them for this, and it did take hours before someone got back to us.
Read more: PPHCR.com Pay Per Head Review
Write comment (0 Comments)