Easy Pay Per Head Review
Details

Category: Pay Per Head Reviews
Created: Thursday, 30 July 2020 10:26
Easy Pay Per Head is one of the youngest you will see in our sportsbook pay per head reviews, but with good reason. In the year that they have been in operation, they have amassed quite a lot of registration from bookies all over. Because of the huge interest in this provider, we decided to take a look and see what the buzz is about. Of course, since they are still relatively new, we have not seen any complaints online. But not for a lack of people to conplain. In fact, we are seeing some bookies recommending EasyPayPerHead.com as a reliable and a very affordable pay per head software provider.
Looking at their product offerings, we can see that their bookie software is actually pretty much complete in terms of the tools that bookies need. With them, bookies can create and customize their sportsbooks in minutes. When we tested the customization for their software, we were pleased to see that you can actually customize the limits of each player. So, if you want to raise your limits except for some new players, then you can just change those you want to change.
As we check out the other features from their site, we can also see that they do offer a lot to their bookies. First off, bookies can offer a sportsbook, an online casino, and a racebook. All these are connected, so you won't need to configure each site separately. Second, your dashboard has a lot of tools that can help you easily manage your sportsbook, such as player management, line management, and even data reports.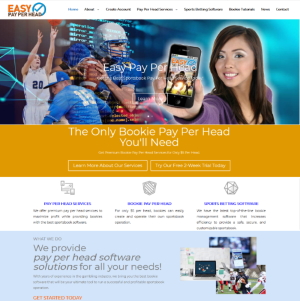 Inception: 2019
Price: $5 per player
Products: Sports betting, Live in-game betting, Online casino, Racebook, Live casino, online wagering, telephone wagering, mobile platform, player bonuses, prop bet builder
Website: EasyPayPerHead.com

Telephone: Live Chat

Location: Costa Rica
Current Promo: 2 Week Free Trial
EasyPayPerHead.com Service
EasyPayPerHead.com provides a wide range of services for both bookies and their players. Some of their features include:
Bookie Software Options:
Create player and agent profiles
Monitor player activity
Set player limits individually
Player management system
Generate player reports
Real-time updating
Multi-layer protection
Sportsbook Software Features:
Sports Betting
Live in-game betting
Live dealer casino
Racebook
Online casino
Player bonuses
Prop Bet Builder
EasyPerHead.com Pay Per Head Review
As mentioned earlier, they are one of the newest bookie software providers we are reviewing. And the more we use their soervices, the more we like it. In fact, your first two weeks are truly free. Once you sign up, they will not ask you for bank details. You just get two weeks free, and pay after that. This two week period alone was enough to convince us that even if they are new, they go above and beyond to match the expertise of their competitors. For instance, they are one of the first providers to offer a player Prop Bet Builder, something that is not even available in other sportsbooks yet.
The Sports Betting Management Software
The dashboard gives you a commend central feel, where you can see everything that happens in your sportsbook. From here, you can easily navigate the options to manage your lines, your players, or generate reports to see the activity of your sportsbook. These reports can help you strategize on ways that you can improve your operations so that you can bring in more money in the long-term.
The Player Betting Interface
The site itself has a clean and simple design, without any of that flashy stuff. Some may find this boring, but some prefer the uncluttered and clean layout of their betting interface. Everything can be seen easily, and they have 24/7 customer service on standby, in case anyone will have questions.
PricePerPlayer.com Rating: 5 out of 5
Their premium bookie pay per head services are at par with some of the biggest names in the pay per head industry, and that is saying something. Their full portfolio of services is available at only $5 per head, which also makes them one of the most affordable in the market today.