March Madness Odds and Preview - Arkansas vs. New Mexico State
Details

Category: NCAA Basketball
Created: Saturday, 19 March 2022 23:35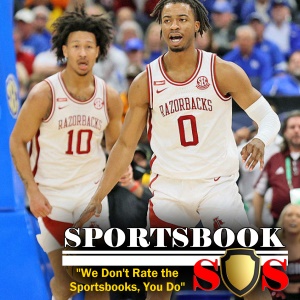 There is no doubt that the New Mexico State Aggies pulled off a real shocker when they upset UConn in the opening round of the NCAA Tournament. But now the challenge is to do something unexpected again. Are they as good as they looked against the Huskies? Surely that is a question for BetAnySportscustomers to speculate about.

They'll have to get past a major obstacle on Saturday night when they take on the Arkansas Razorbacks in second-round action that begins at 8:40 PM ET at the KeyBank Center in Buffalo.


NMSU, which won the Western Athletic Conference (WAC) title to earn their way into the Big Dance with a 27-6 record, beat UConn 70-63 on Thursday. And to put it mildly, they got a monster game out of Teddy Allen, who tallied 37 points.

Arkansas (26-8) really went through the grinder in the SEC, which up until recently did not have nearly the same hoops reputation as it does infootball. While we acknowledge that the conference has suffered some upsets over the first two days, if you can score wins over the likes of Auburn, Tennessee, Kentucky and LSU.as the Hogs did down the stretch, you are accomplishing something.

Still, Eric Musselman's squad had a rough time in the opener, registering a 75-71 win over Vermont, behind 21 points and nine rebounds from Stanley Umude. Arkansas got 25 chances from the free throw line, converting 20.
In the March Madness odds on this game, as posted at BetAnySports, Arkansas is the favorite:

Arkansas Razorbacks -6.5
New Mexico State Aggies +6.5

Over 138 Points -110
Under 138 Points -110

Arkansas is not one of those teams that is going to "three-point" opponents to death. In fact, they are below 31% from the arc, and that leaves them outside the nation's top 300. On top of that, the Aggies have yielded just 30% from long-range.

But the Razorbacks would appear to do enough things very well to give them a distinct edge in this encounter. For one thing, they have been very adept at getting to the line. They have taken the most free throws and made the most. The percentage of points they get on foul shots is eighth-highest in the nation - and that means even more than usual because they are pretty accurate (75.5%).

According to sportsbook pay per head news, Arkansas does not mind at all turning up the speedometer. New Mexico State has shown a proclivity to turn over the ball - 20.6% of the time, in fact - and that will help to ignite fast break opportunities.

NMSU did not exactly take the hard road to get to the tourney. All they had to do to win the WAC was beat Grand Canyon and Abilene Christian. And they have been bad enough at times that they suffered defeat at the hands of Chicago State,which had a 7-25 record. So was Thursday's win a fluke?

Against UConn, Allen scored 53% of the points and took EVERY one of the team's free throws. According to the top sportsbooks and experts, that's too top-heavy, and not sustainable. So we would rather move with Arkansas in what may be a fast-paced affair.


Nobody does it better in March Madness than BetAnySports, where you can get reduced juice and stay very much in the action a alltimes with real-time wagering........ And they make it easy for you to open up an account if you have Bitcoin, which doesn't ever incur a transaction fee!