Details

Category: Soccer
Created: Saturday, 14 October 2023 23:17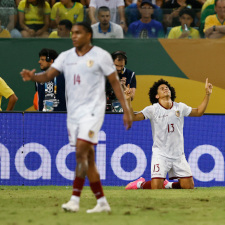 Eduard Bello scored a goal with a bicycle kick, leading to a draw against Brazil. Also, it led to the end of Brazil's home winning streak. The last time Brazil failed to win at home during a World Cup qualifier was a draw against Uruguay in March 2016.
According to bookie pay per head reports, Arsenal's defender Gabriel Magalhaes scored the first goal in the 50th minute. He headed in the ball from Neymar's corner kick.
With 20 minutes left, Brazil finally doubled their lead after multiple opportunities. However, Vincius Jr.'s shot was disallowed for offside.
Read more: Venezuela Ends Brazil's Home Winning Streak
Write comment (0 Comments)