Details

Created: Sunday, 21 February 2021 12:11
What sets PayPerHeadKing.com different from other pay per head providers? Although it is relatively new to the online sports betting market, it has been offering its PPH services since 2016. Our PayPerHeadKing.com pay per head review will look if it is worth using for your bookie business.
Although its PPH solution is far from perfect, Pay Per Head King offers all the tools and features needed to run a sports betting website. Its clientele was limited to private companies and startups in Costa Rica in the past.
The company started offering its services to bookies across the globe in 2019. It was during that time when the company launched its website. We try to find out why most PPHK sportsbook pay per head reviews are positive.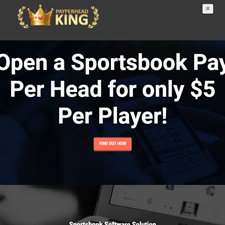 Details

Created: Thursday, 30 July 2020 10:26

Easy Pay Per Head is one of the youngest you will see in our sportsbook pay per head reviews, but with good reason. In the year that they have been in operation, they have amassed quite a lot of registration from bookies all over. Because of the huge interest in this provider, we decided to take a look and see what the buzz is about. Of course, since they are still relatively new, we have not seen any complaints online. But not for a lack of people to conplain. In fact, we are seeing some bookies recommending EasyPayPerHead.com as a reliable and a very affordable pay per head software provider.
Looking at their product offerings, we can see that their bookie software is actually pretty much complete in terms of the tools that bookies need. With them, bookies can create and customize their sportsbooks in minutes. When we tested the customization for their software, we were pleased to see that you can actually customize the limits of each player. So, if you want to raise your limits except for some new players, then you can just change those you want to change.
Read more: Easy Pay Per Head Review
Write comment (0 Comments)
Details

Created: Saturday, 23 March 2019 00:16
Sports Betting Solution Asia's services are pretty self-explanatory: They provide software solutions, and they are experts in the Asian sports betting market. When looking for a reliable sports betting software company, we would always check their track record. Not only will it tell you about the reliability of the company, but you will also get an idea of the quality of services they offer. For instance, take a look at this 247PPH.com review, and then check this review out. You can definitely tell the difference in quality a company provides.
Sports Betting Solution Asia also offers white label sports betting and their sportsbook pay per head services as well. They have offices across the world, Costa Rica houses their main offices though. They hold a large market share across Asia, most particularly in South Korea. Let's take a deeper look into their company.
Read more: Sports Betting Solution Asia Software Review
Write comment (0 Comments)
Details

Created: Sunday, 19 April 2020 07:33
9DollarPerHead.com is a brand that most bookies trust. Since 2012, they have been providing quality sports betting software and customer service. Our 9DollarPerHead.com pay per head review will check whether the PPH provider is still worth your money today.
For almost a decade, 9DollarPerHead.com has been popular among sportsbook operators. Throughout the years, it improved its services to ensure its customers get an efficient sports betting platform.
Combine this with one of the best sportsbook software and you get a company that has won several awards in the gambling industry. Our 9DollarPerHead.com Bookie Pay Per Head Review will go over the pros and cons of using their PPH Services.
Read more: 9DollarPerHead.com Pay Per Head Review
Write comment (0 Comments)
Details

Created: Friday, 09 November 2018 21:00
PPHCR.com is a sportsbook pay per head service that is relatively new in the industry. They are based in San Jose, Costa Rica. Let us take a look at their pay per head service and see how they rate. If you want to be a sportsbook agent, it is very important to read reviews like this, so you know what you are getting into. Ideally, you would not want to switch pay per head providers because it would cause trouble with payouts or players.
PPHCR.com also offers line services that they source from Las Vegas in the USA. Upon first glance, they are offering $8 per player for a customized service. We also noticed that they are connected to RDGCorp.com PPH Service - though it is unclear if this is a partnership or reselling of services. We also saw an offer for a free demo. We had to get in touch with them for this, and it did take hours before someone got back to us.
Read more: PPHCR.com Pay Per Head Review
Write comment (0 Comments)
Details

Created: Saturday, 31 August 2019 04:03
PremierPerHead.com is one of the well-known pay per head providers on the market today. Although there are sportsbook pay per head reviews claiming it to be one of the best today, we also heard many complaints about it. That's why we created our own PremierPerHead.com Pay Per Head Review.
We took a closer look into the sportsbook pay per head solution to find out if it comes through with its promise of innovative tools and features. We wanted to know what made it stand out of the crowd.
Read more: PremierPerHead.com Pay Per Head Review
Write comment (0 Comments)
Details

Created: Wednesday, 19 September 2018 17:58
Sportsperhead is a relatively new sportsbook pay per head provider. With new companies, it is very important that their services match up to those who have been in the industry longer. Therefore, they must offer a more competitive package, or offer services that will encourage bookies to sign up.
A great way to find out just how competitive your sportsbook is, is to read pay per head reviews. From there, look at the rates and the services. Most importantly, make sure the sportsbook software is top of the line.
In the case of sportsperhead, we will take a look at their site and see how they compare to the more established providers in the sports betting industry.
Read more: Sportsperhead.com Pay Per Head Review
Write comment (0 Comments)