UFC 202: Early Weigh-In Coverage and Predictions
Details

Category: Fighting
Created: Friday, 19 August 2016 22:23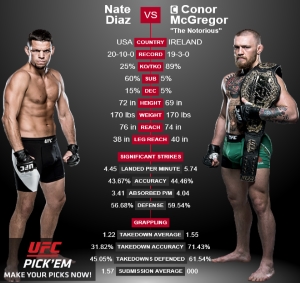 This Saturday at 10PM ET, UFC betting fans are going to see a rematch that fans have been eagerly awaiting for a long time. Yes, we are talking about the Nate Diaz(19-10 MMA, 14-8 UFC) vs. Conor McGregor(19-3 MMA, 7-1 UFC) welterweight fight!
Just a few hours ago at the Red Rock Casino Resort & Spa in Las Vegas, NV, both fighters came in for an early weigh-in and it was exactly what the fans wanted to see before a match, or maybe not…
First, McGregor was 30 minutes late, showing Diaz how much respect he had for him as a fighter which left Diaz leave the scene but not before first giving McGregor and his crew the bird and then throwing a water bottle.
This of course led to a school yard worthy verbal fight of obscenities which then led to some bottle and can throwing and an abrupt white flag from UFC czar Dana White.
There is obviously no lost love between these two fighters who last went head-to-head back in March during UFC 196 where Diaz defeated McGregor by submission on less than two week's notice.
In the end, here are the results of the UFC 202 Weigh-Ins
MAIN CARD (Pay-per-view, 10 p.m. ET)
Featherweight champ Conor McGregor (168) vs. Nate Diaz (170.5) – non-title welterweight bout
Anthony Johnson (205.5) vs. Glover Teixeira (205.5)
Donald Cerrone (170) vs. Rick Story (171)
Hyun Gyu Lim (171) vs. Mike Perry (169)
Sabah Homasi (170.5) vs. Tim Means (171)
PRELIMINARY CARD (FS1, 8 p.m. ET)
Cody Garbrandt (135) vs. Takeya Mizugaki (136)
Raquel Pennington (135.5) vs. Elizabeth Phillips (134)
Chris Avila (146) vs. Artem Lobov (144.5)
Cortney Casey (116) vs. Randa Markos (116)
PRELIMINARY CARD (UFC Fight Pass, 6 p.m. ET)
Lorenz Larkin (170.75) vs. Neil Magny (171)
Colby Covington (171) vs. Max Griffin (170.5)
Alberto Uda (185.5) vs. Marvin Vettori (185.5)
UFC 202 Predictions
Conor McGregor vs. Nate Diaz Prediction
Conor McGregor is the favorite to win by sports handicappers as he is at -129 while Diaz is at +109. However, many fighters are going against the odds believing that McGregor needs more training before he can defeat Diaz unless McGregor is able to knock him out early.
Raquel Pennington(7-5-0) vs. Elizabeth Phillips Prediction(5-3-0)
This one is a given by both the sports handicapping experts, the online sportsbooks and the fans are all saying that Raquel Pennington at -245 will destroy Elizabeth Phillips who is at +205.
The reasoning behind it is that many believe Pennington is the superior mixed martial art fighter. In addition, Phillips does not have the endurance to go all out for more than one round.