2016 Preakness Stakes Betting Preview and Odds
Details

Category: Horse Racing Betting News
Created: Thursday, 19 May 2016 14:25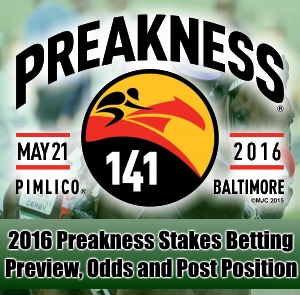 Now that the Kentucky Derby is over with Nyquist crowned as the winner, horse racing fans are looking forward to the Preakness Stakes. The word around the track is that Nyquist has a great chance to take the crown on Saturday when he will go nose-to-nose against other hopeful horses and jockeys around the track.
Currently, the field for the 2016 Preakness Stakes is set and the post position are out. For those who bet on horses, sportsbooks like BetOnline.ag and SportsBetsOnline.ag have their odds out and it is just a matter of time to see which horse will earn a prize for winning the 1 3/16 mile long race on May 21st, 2016 at 6:18M EDT.
In the 2016 Preakness Stakes, the top 4 winning positions will receive $1,500,000 for First place, $900,000 for Second place, $300,000 for Third place and $165,000 for Fourth place along with having the honor of earning one of the Grand Slam titles.
| | | | | |
| --- | --- | --- | --- | --- |
| Post position | Horse | Jockey | Trainer | Odds |
| 1 | Cherry Wine | Corey Lanerie | Dale Romans | 20-1 |
| 2 | Uncle Lino | Fernando Perez | Gary Sherlock | 20-1 |
| 3 | Nyquist | Mario Gutierrez | Doug O'Neill | 3-5 |
| 4 | Awesome Speed | Jevian Toledo | Alan Goldberg | 30-1 |
| 5 | Exaggerator | Kent Desormeaux | Keith Desormeaux | 3-1 |
| 6 | Lani | Yutaka Take | Mikio Matsunaga | 30-1 |
| 7 | Collected | Javier Castellano | Bob Baffert | 10-1 |
| 8 | Laoban | Florent Geroux | Eric Guillot | 30-1 |
| 9 | Abiding Star | J.D. Acosta | Ned Allar | 30-1 |
| 10 | Fellowship | Jose Lezcano | Mark Casse | 30-1 |
| 11 | Stradivari | John Velazquez | Todd Pletcher | 1-Aug |

Preakness Stakes Main Contenders Betting Preview
Nyquist (owned by J. Paul Reddam, Trainer is Doug O'Neil, Jockey is Mario Gutierrez)
According to Nyquist's trainer and Triple Crown hopeful, Nyquist is in great shape and ran smoothly during his last practice run. Currently he is a heavy favorite to win at 3-5 betting odds.
Gun Runner who came in 3rd during the Kentucky Derby, will not be running in the Preakness according to Steve Asmussen, the trainer for Gun Runner who said that he needs the rest for the Belmont. This leaves Lani as the next heavy contender for the Preakness.
Lani (owned by Koji Maeda, Trainer is Mikio Matsunaga, Jockey is Yutaka Take)
Lani has a reputation as a horse with some behavioral problems as he needs to be walked from the barn and warm up away from other contenders. Even though he placed 9th in the Kentucky Derby and the early odds on him are 30 to 1, many consider him a good horse racing bet to place or to show as a side bet or wildcard.
Exaggerator (owned by Big Chief Racing, Trainer is Keith Desormeaux, Jockey is kend Desormeaux)
If any horse is a true contender against Nyquist it would be Exaggerator with a 3 to 1 early betting odds to win the Preakness. Even though Exaggerator has never beaten Nyquist in 4 runs, he did manage to come in second place during the Kentucky Derby and is known as a horse that has the ability to recover quickly which is what a horse will need after only a two week rest period in between races.
Cherry Wine (owned by William Pacella, Frank L. Jones Jr., Frank Shoop, Trainer is Dale Romans, Jockey is Corey Lanerie)
Romans is very happy with how Cherry Wine has trained so far and will be a well rested horse for the Preakness. Cherry Wine is considered a dark horse to win the Preakness and is considered a sleeper to finish in the money.