NBA Betting Tips – NBA Trade Deadline
Details

Category: NBA Betting Tutorials
Created: Wednesday, 17 February 2016 23:35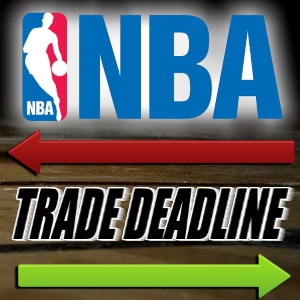 One of the trickier times to handicap any sport is in the final week prior to the trade deadline. This is particularly true for the NBA, as basketball teams have much smaller rosters than other sports (such as the NFL or MLB), and a trade involving three or four players basically devastates that team's active roster for an entire game.
For this reason, it is wise to wait as close to tip-off before placing a wager either on or against an NBA team in case any late-breaking trades are released. The worst thing that can happen to someone betting on the NBA is to do all of the handicapping, only to have that work wasted by a surprise trade.
The NBA's All-Star break was this past weekend, but there have been no NBA games played so far this week. There are three games scheduled for Thursday – the same day that all trades must be finalized. The six teams involved in those Thursday games is what this NBA handicapping approach really applies to this year.
If any trades involving those teams come to fruition, and the rosters of those teams will be weakened, the online sports betting website will obviously adjust their lines. However, it is still worth fading those teams, who will gladly sacrifice one victory to avoid putting a strain on the rest of their roster by having them play extended minutes. Also, opposing teams tend to take the mindset of playing extremely aggressive – hoping to put that shortened roster in foul trouble as part of their game plan.
Five of the six teams in action on Thursday are currently in playoff position, and therefore a likely candidate try to improve their roster for a postseason run. We will be discussing some of the more prominent NBA trade rumors later this week, however, it's important to note that the Cleveland Cavaliers have had several trade rumors over the last week, and at this point it would be surprising if they didn't make a move by this Thursday.
If the Cavs do make a move and play the Chicago Bulls with a depleted roster, then NBA bettors should take a hard look at how the online sportsbooks adjust the line on that contest, and possibly fade the Cavs if the situation calls for it.
If one of those Thursday games sees both teams play with depleted rosters, then NBA handicappers should look towards backing the Over. When teams are fatigued, it's the defensive end of the court that usually is exposed, and a high-scoring game would be the most likely outcome.
Do your homework by researching games involving depleted rosters prior to the trade deadline in recent years, and apply that knowledge towards Thursday's (and possibly Friday's) games. You might just find a great spot to nab an easy ATS winner!
We'll be back shortly with our NBA Trade Rumors Report.