Details

Category: NCAA Basketball
Created: Monday, 26 March 2018 19:08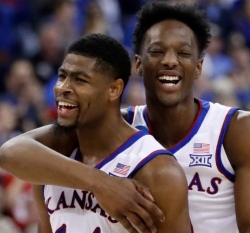 Only four teams remain in the NCAA basketball tournament now that Sunday's final two are over. As we close this page in March Madness history, it's time to see who will make it to the finals. Let's take a look at our 2018 March Madness Final Four Predictions to see what our experts have to say.
In last night's final games of the Elite Eight round, we got to see Villanova and Kansas secure a Final Four spot. Villanova secured its title as the favorite to win this year's tournament by destroying Texas Tech 71-59. Kansa on the other hand had a hard time defeating Duke but in the end, only a victory matters.
They will now join Loyola and Michigan this Saturday as we get closer to the March Madness finals. The current schedule has Michigan going against Loyola at 4:09PM ET and Kansas taking on Villanova at 6:49PM ET.
Read more: 2018 March Madness Final Four Predictions
Write comment (0 Comments)